Dear user from the very start ❤️ ,
you are seeing this website because the Context Search 0.0.7 update a.k.a. "James Bond" is my first update since launch that introduces a big new feature. After hours of coding to make the data structure compatible with the sync storage limitations I'm proud to announce:
New

Native Firefox and Chrome sync added.
As soon as you have enabled sync in your browser settings your setup will magically appear and update on all your connected browser instances.
---
Coming soon: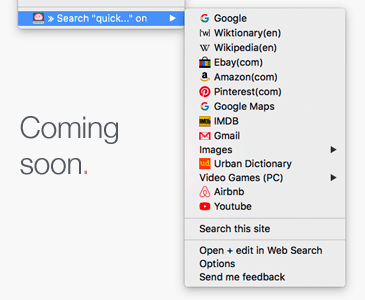 Firefox

0.0.8

(Optional) Favicons for your searches.


Editor

Possibility to edit created links as long as they are not approved.

Website

Many improvements for the Trufflepiggy Context Search website like a dedicated help page, user menu, etc…
---
Ideas, feedback, reviews & ratings:
If you like Trufflepiggy Context Search please spread the word and leave a rating or review at the webstore. If you have ideas for Context Search, found a bug, or need help please contact me. Thank you very much.
---
New Screencast "Feature Overview":
Last but not least if you haven't seen it yet - I made a short screencast last week to show the most common Context Search features.
Thanks for being a part of the Trufflepiggy family,

Clemens Mautner Markhof - Creator of Trufflepiggy