S

afari

We haven't developed a native Trufflepiggy - Quick Search Safari addon yet. However you can already start using Trufflepiggy as bookmarklet and as new tab.

🐽

To install just drag & drop the nose to your favbar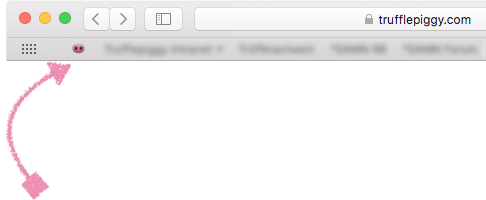 Make sure your favbar is currently active. If not activate it by clicking

⌘ cmd + ⇧ shift + b

.
Now drag & drop the nose onto your favbar onto the first position(most left).
You made it 🙌 ! Ready to try it!? Select, or double-click, any text you want like

Lightspeed

and click on the nose in your favbar or use

⌘ cmd + ⌥ alt + 1

(the numbers equals the position in your favbar) to search for the text without re-typing or copy pasting.
Use
Trufflepiggy

for new tabs.
Further you can save even more time by using Trufflepiggy as start page on new tabs in 3 easy steps.
Open your preferences (

⌘ cmd + ,

)
In the general preferences set

Open new window with

and

Open new tab with

to

Homepage

Enter https://trufflepiggy.com/find as new homepage and close the preferences.
Enjoy the new way of search and find.
If you want to get notified when the Trufflepiggy add-on is also available for Safari follow us on facebook or twitter.